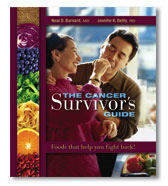 Eat Your Way to Cancer Prevention and Survival
The Physician's Committee for Responsible Medicine, headed by Dr. Neal Barnard, MD, of the George Washington University School of Medicine, focuses on incorporating nutrition education in treating, preventing and even reversing many diseases.
Included in their body of work is the Cancer Project which focuses on "advancing cancer prevention and survival through nutrition education and research."
As their informational brochure states: "Research shows that more than one-third of all cancer deaths in this country are due to poor diet, yet most Americans are not aware of the relationship between nutrition and cancer. Surveys have repeatedly found that most people have never heard of the link between diet and cancer. That is one of the reasons we established The Cancer Project–to disseminate lifesaving information as widely as possible and keep it from being buried in medical libraries."
Cancer Prevention Resources
The PCRM website offers a wealth of resources for anyone interested in the link between diet and cancer.
Check out their Cancer Resources.
One of those resources is The Cancer Survivor's Guide. The guide is for cancer survivors as well as anyone who wants to learn how to prevent cancer. It can be downloaded free as a PDF file from the PCRM website on the link provided below.
Be Proactive!
When it comes to your health, you are your best advocate. Be proactive. Start by learning how you can improve your own health by making better food choices. Check out the PCRM website and take advantage of all their offerings. If cancer is something you are concerned about, get The Cancer Survivor's Guide. And support PCRM by becoming a member.
For your free PDF download click here: Cancer Survivor's Guide