Gluten-Free, Dairy-Free, Buckwheat Banana Pancakes Recipe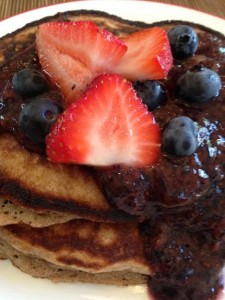 If you are looking for a healthy breakfast with protein and fiber or if you are gluten sensitive or have food allergies, you may want to check out this recipe for Buckwheat Banana Pancakes. Buckwheat pancakes are not only good for breakfast but they are great to snack on and you can take them with you to work or if you are traveling in the car. They are also good as a trail snack when you are training, yourself or your dog team! I always make sure I have a snack to eat when I'm out running my dogs.
Give it a try and let me know what you think. In this recipe I especially love the berry sauce which I made with frozen mixed berries. Delicious!
Gluten-Free, Dairy-Free, Buckwheat Banana Pancakes Recipe – Ingredients
Buckwheat flour infuses these hearty pancakes with extra protein, fiber and nutrients. If you find buckwheat's earthy flavor too strong on its own, replace half of it with another gluten-free flour, such as brown rice or quinoa, or with a gluten-free blend.
1 cup blueberries
¼ cup dark maple syrup or agave syrup
1 cup buckwheat flour
1 ripe banana, mashed
2 teaspoons baking powder
1 teaspoon cinnamon
¼ teaspoon salt
1 egg or egg replacement
⅔ cup + 1 tablespoon unflavored hemp, rice or soy milk. (I used Silk unsweetened almond milk.)
Directions
To make blueberry sauce, whirl blueberries and maple syrup together in a blender until combined but still slightly chunky.
In a large bowl, combine flour, banana, baking powder, cinnamon, salt and egg. Stir in milk. Add more milk if needed to reach desired consistency.
Heat a non-stick skillet over medium heat. Drop batter, ⅓ cup at a time, on to the skillet and cook for 2 to 3 minutes per side, or until nicely browned. Serve pancakes topped with blueberry sauce.
Each serving (3 pancakes) without blueberry sauce contains 226 calories, 4g total fat, 1g saturated fat, 0g trans fat, 70mg cholesterol, 559mg sodium, 44g carbohydrate, 5g fiber, 8g protein.
This recipe is from LivingWithout.com/Recipes which has lots of recipes for people with food allergies.