The Tofu Breakfast Scrambler Recipe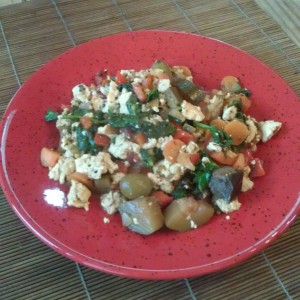 If you're looking to reduce your consumption of eggs but love the thought of an egg scrambler for breakfast, here is a recipe you may want to try. This one is adapted from the Kripalu Yoga Center's Recipe for Scrambled Tofu.
Tofu Breakfast Scrambler Recipe's Ingredients
1/2 pound firm tofu
2 Tablespoons extra-virgin olive oil
1 teaspoon curry powder
1/2 small onion chopped
2-3 cups chopped spinach or chard
1 cup chopped kale
1/2 red pepper chopped
1/2 carrot grated
1/2 teaspoon oregano
1/2 teaspoon basil
1 tablespoon Liquid Aminos
1/2 cup Caponata (optional)
Saute onion over medium heat in olive oil. Add red pepper and carrot. Add curry and stir. Rinse tofu and crumble into onions. Combine well. Add remaining ingredients. Simmer until heated through.
If you like salsa with your scrambler, add a little to taste or another option is to add 1/2 cup of Componata. My Caponata Recipe can be found in my April 10, 2011 post.
This makes 3-4 servings and tastes even better reheated the next day.