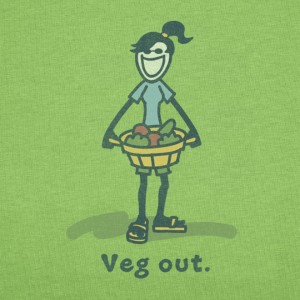 I've never looked at a "Life is Good" logo and not smiled. This one in particular reminds me that Spring planting is underway and fresh local produce is not far behind. Spring and Summer is a great time to incorporate healthier foods into our daily choices. Even people who aren't great fans of vegetables find it hard to resist them when they are fresh picked!
Eating healthy is a bit easier also if you have a "go to" recipe already prepared and in your fridge. I always try to have a ready dish that is healthy and versatile and can be eaten as a stew or a soup, as a side dish or a main meal, or even as a snack. Such recipes are great to have on hand or for putting in a thermos to take along in the car. Here is a great go-to dish from Cathy Fisher of Straight Up Food. Cathy is a plant strong chef who gives very helpful notes about her recipes and their ingredients. Her recipe for Curried French Lentils is listed here. You can also find it and more of her plant strong recipes at Straight Up Food.
Curried French Lentils
Serves 4 (makes about 8 cups or 4 bowls)
Ingredients:
6 cups water (I like to use vegetable broth for added flavor and nutrients)
1 cup French Green lentils
1 yellow onion, chopped
1 small yam or sweet potato, diced (about two cups)
2 cups small cauliflower florets
2 ribs celery, sliced
1 can (14.5-ounce) diced, salt-free tomatoes
2 teaspoons curry powder
2 teaspoons dried green herbs (like a French or Italian blend)
1 teaspoon granulated onion
1 teaspoon granulated garlic
4 cups greens cut into bite-size pieces (like kale, chard, spinach, collards, beet greens)
Instructions:
In a soup pot on high, bring the water and lentils to a boil. Reduce heat to medium and cook for 20 minutes (a low boil).
Add the onion, yam/sweet potato, cauliflower, celery, tomatoes (including juice), and the four herbs and spices. Cook for 10 minutes at the same heat. Add greens, and cook for 5-10 more minutes (spinach, chard and beet greens won't take as long to cook as kale or collard greens), until potatoes and greens are tender. Serve as is or over cooked brown rice or with quinoa.