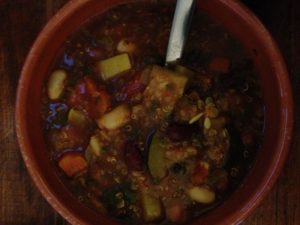 Minestrone Soup has it all: Whole-Food Plant-Based. Gluten-Free. Dairy-Free. A Complete Meal.
I am always looking for healthy plant-based low glycemic recipes and what a delight to come across this bountiful recipe for Minestrone Soup. I received it in an email from Cindy Crockett of Harvest Grove Garden Market in Berlin, Md. Cindy and her husband Lynn run a local farm near me and they have a garden stand where they sell their local produce. Cindy is a wonderful resource and she sends out recipes via email and they also have a Face Book page with lots of recipes posted on the site. Do check it out for some healthy recipe ideas: Recipes from Harvest Grove Garden Market.
Power Packed Minestrone Soup: Eat now. Save for the week.
I particularly like the following version of Minestrone Soup. The pasta is replaced by quinoa, a great source of nutrients and protein. Make a batch of this soup on the weekend and you have a hearty "go-to" dish available all week. Use it as an appetizer or as a complete meal with a salad. Great for Fall or hectic days. Throw some in a thermos and bring it with you to work. What's not to like? If you are not used to kale, cut it up real small so you barely notice it in the soup but you'll still get the nutrient benefits of this powerhouse green. I put mine in my ultimate chopper and it blends in beautifully in the soup. I can also make this soup Whole-Food Plant-Based by eliminating the oil in the first step and sautéing my veggies with water. And instead of water in the ingredients I use vegetable broth. When ready to eat I substitute parmesan cheese with nutritional yeast and I have a power-packed meal.
Harvest Minestrone with Quinoa and Kale
By Silvia Bianco
Minestrone is a thick vegetable/bean soup, usually with the addition of pasta. It has a long history dating back to pre-Roman days, and it used to be made primarily with leftovers by poor families looking to stretch their food resources. It's considered a part of la cucina povera, or poor kitchen. It evolved over the years, as any good recipe does, reflecting the economies and eating habits of the people making it, so I thought it fitting that I add quinoa (instead of pasta) and kale to this classic soup.
Don't let all the ingredients scare you. All you're really doing is chopping the veggies into a medium dice (about the size of popped corn) and putting everything in a big pot. It's fast, easy and ready to eat in about 40 minutes without much fuss from you, and it's good for more than one meal. Make a really big pot and freeze what you don't use in quart containers. They last for months and will be a lifesaver when you can't or don't want to cook.
In celebration of this time of harvest, when fresh local vegetables are available almost everywhere, go explore the farmer's markets, stop at farm stands, or just grab your favorite fresh veggies wherever you can, and make a minestrone. Express yourself!
Ingredients
1 sweet onion – medium diced
2 celery stalks – medium diced
3 carrots – medium diced
2 tablespoons olive oil – or enough to cover the bottom of the pot
2 cloves garlic – finely chopped
2 cups fresh zucchini – medium diced (about 1 medium or 2 small)
2 cups green beans – cut in 1 inch pieces
1 bell pepper – medium diced
1 28-ounce can crushed tomatoes
2 28-ounce cans of water. (I like to use vegetable stock)
1 15-ounce can of cannellini beans
1 15-ounce can of chickpeas
1/2 cup uncooked quinoa (rinse under cold water in a wire strainer before adding to recipe)
2 cups kale – stems removed
1 teaspoon turmeric (or to taste)
Pinch of red pepper flakes
Salt and pepper to taste
Garnish with parmesan to taste or nutritional yeast to make dairy-free
Garnish with slivered basil or finely chopped rosemary
Directions:
Place a large stockpot over medium heat and add the onions, carrots and celery. Cook for about 5 minutes or until softened.
Add the garlic and a pinch of red pepper flakes and cook for about one minute or until garlic begins to color.
Add the zucchini, bell pepper, and the green beans, season with salt and pepper, add the turmeric, stir and cook for about 3 minutes.
Add the tomatoes and the water, raise heat to high and bring to a boil.
Lower the heat to medium/low and allow the soup to gently boil (uncovered) for about 20 minutes.
Add the quinoa and cover for 15 minutes.
Remove the cover, add the kale and the canned beans (more water if needed) bring back to a gentle boil and cook for another 5 minutes or just until the kale is tender.
Grate in the parmesan, add the basil and serve. (or do this for individual servings).