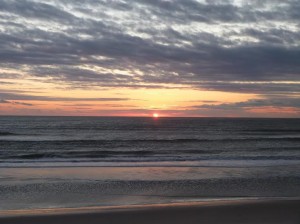 A Musher's Gotta Do What A Musher's Gotta Do
When people see me walking my dogs in the fall just as the thermometer dips below 50 and the cooler breezes kick in, it's quite common for someone to inevitably say "Your dogs must be loving this weather." I generally smile and say "Yes they do" unwilling to go into specifics that actually what they REALLY love is when the temps are between 0 and 20F, with low humidity and lots of snow on the ground.
This year, as 2013 turned into 2014, mushers in New England were thrilled with all the snow Mother Nature dumped early in the season. Emotions ran high as mushers switched from dryland rigs and ATV's to dog sleds thinking that finally they could get some training on snow to get ready for the upcoming sled dog races. I too was excited even though I live in Maryland because I had several races penciled in on my calendar and I couldn't wait to head to New England to run my team on snow!
And then Mother Nature threw a big bucket of cold water on all of us, cackling for us to "Snap out of it!" (My favorite line from Cher in the movie Moonstruck.) Mother Nature litterally dumped tons of rain all over the east coast causing havoc in New England. Roads became virtual skating rinks to the point where police in the town of Rumford Maine threw up their hands and closed all the roads and told everyone to stay indoors until conditions improved.
Over time the ice melted and roads improved but groomed trails did not! Some totally disappeared and race after race was canceled, frustrating the hundreds of volunteers who had spent hours organizing a race.
And the mushers? Well they felt like Red Sox fans all too often do. (This year being an exception to the rule.) Hopes became dashed after the initial euphoria regarding the upcoming mushing season.
This weekend I had planned to get out on snow for the first time this season by taking part in the Winterfest Dog Sled Races in Warren County Pa. I was truly excited about the weekend. It's a great event and lots of winter fun for adults and kids alike. But yesterday the call came and all dogsled races were canceled since almost all the snow had been washed away by rain. Even though Winterfest would still take place, my husband and I would not be making the 8 hour drive with my team from the eastern shore of Maryland. We would stay home and I would try to get in some dryland training locally.
And what does dryland training mean for a musher living in the southern state of Maryland where snow is only something that dreams are made of? For some basics on that see my blog post written by my husband Kevin: Dryland Mushing Basics
Today, my disappointment over my canceled weekend trip demanded extreme coping measures.
The temperature today was too warm to run the dogs: 45F with 90% humidity! So instead we would use the morning to troubleshoot yet another means of exercising my sled dog team. It was time to test out my Beach Sled!
Have I ever mentioned that I am a firm believer that the first person to utter the phrase: "Necessity is the mother of invention!" had to be a musher?! Mushers are a resilient breed and uncanny in finding ways to make things work. Ask ANY musher who has run the 1000 mile Iditarod or Yukon Quest and they will regale you with hundreds of survival stories from the trail. One might tell you how he or she figured out a way to hold together a damaged sled out in the wilderness so he or she could make it to the next checkpoint some 70 miles away. The list is long.
My Beach Sled
With heroes like that to inspire, surely as a musher living on the Maryland shore, I would not let a very uncooperative Mother Nature dampen my drive to train my sled dog team.
As Jamie Nelson, a champion musher and coach, once told me. "What have you got to work with? Find something that you have and make it work!"
So I took stock.
I don't have snow, but I've got beaches nearby with lots of sand.
I've got a second hand sled.
I've got a pair of Rossignol skis purchased at a yard sale in Maine.
I've got a drag mat for the sled and a snow hook
This fall I had the skis put on the runners of the sled to widen them. This is a tip I got from my Canadian mushing friend Gino Roussel. Here's how that turned out.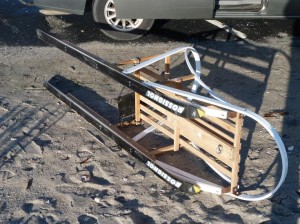 Today I would take out the sled and test it out on the sand using just 3 of the dogs to work out some of the kinks.
First I bootied the dogs since there were a lot of broken shells in the sand and I wanted to avoid cuts on their pads. Here I am putting a bootie on Chinook.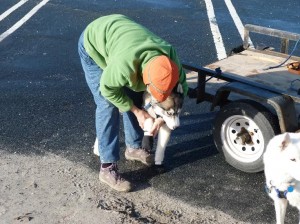 Then I took off with Cree, Chinook and Fenway and headed out along the "snow fence", a misnomer really since there is no snow in site! But these fences are used to keep the dunes from shifting. You can see how high the sand has piled up along the fence.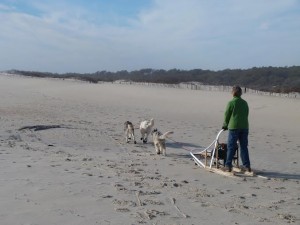 Strength Building
The going was slow and tough on the dogs but I didn't want to hook up all 5 since I wanted to see how the sled would maneuver on the sand and I didn't want speed to be an issue. No worries there! The dogs had to really dig in to work in the soft sand. You can see how hard they are pulling here.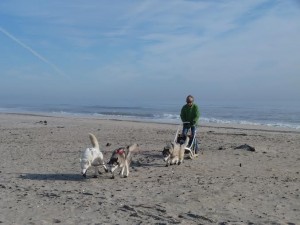 The Sound of the Sea
But overall, having a beach sled is another training option for me and even though I'm not adding lots of miles to my training, working on muscle building can be enjoyable when you get the chance to look out to sea. As another one of my favorite sayings goes: "The sound of the sea, speaks to the soul." Perhaps the dogs think that as well since I found all 3 of them looking out to sea as we headed for the parking lot.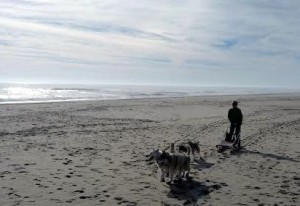 Happy Trails! and Mush On!