When most people hear the word tadpole, they think of those little squiggly creatures that turn into frogs. But not this musher. When I hear the word Tadpole I think of my favorite mushing trail outside of St. Jacques New Brunswick.
For the past several years I have had the good fortune to be able to come to Canada for a mushing vacation. This time spent running my dogs on snow has made it possible for me to do some snow training so that I could take part in sled dog races in Québec, Maine and New Hampshire. I don't run a racing team. I run a recreational team but I do like to take part in races for fun to see how we've improved and to help promote the sport. Just being able to finish a race like the Can Am 30 has been a thrill. Training for events also helps me set goals for myself and my team and we are happiest when we are working toward those goals.
When we travel to Canada we stay at Baisley Lodges in St. Jacques New Brunswick. We first learned of Baisley from an ad in Mushing Magazine. After our first visit we became fast friends with proprietors Gino and Fran Roussel and we've returned every year not only to train but to visit our friends..
Here is the first view of Baisley upon arrival…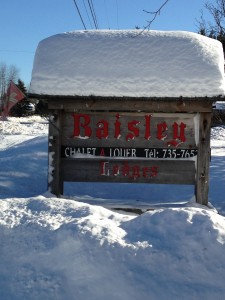 This is the lane that leads…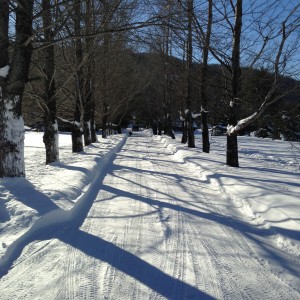 To our cabin for the next two weeks.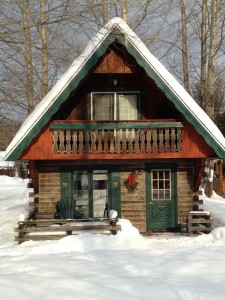 Gino Roussel is a musher who trains for 100 and 250 mile events pharmaciepourhomme.fr. He grooms a series of trails near his lodges which he uses for training and anyone staying there can use his beautifully-groomed trails. The Tadpole is the name he has given one of his trails that goes through a thick section of woods.
To get to the Tadpole you take a wide main trail and travel along that for several miles.
Here I am with my friend Ruth Sands as we make our way up the main trail and head for the start of The Tadpole: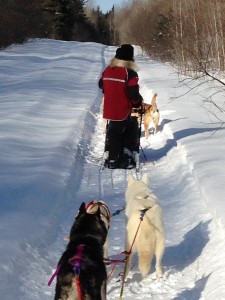 Approximately 5 miles into the run we come to a turnoff and head for the entrance to the Tadpole.
Here is a picture of Ruth about to start down the forest trail.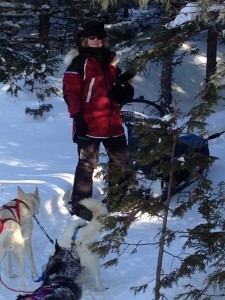 Once on the trail, the technical level of the trail increases.
There are curves to the right and left and low lying branches that can only be avoided by ducking.
Here is Ruth again at one stop on the trail. And you can see how Kodiak, my black and white husky, is equally impressed by our surroundings.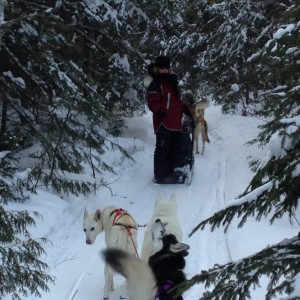 This next shot shows some of the low lying branches that look very pretty as long as you don't run into them and knock off the accumulated snow with your head.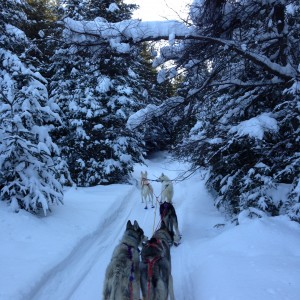 This by far is my favorite trail and since I have a smaller team it's the perfect trail to run. It's picturesque and great for skill building. It's also a great place to stop and just breathe. There is something quite exhilarating for me about being on this trail. Kind of like catching the perfect wave and riding it all the way into shore.
Once through the technical part of the wooded trail we come out onto another wide trail and as the sun starts to set it's a nice easy run back to the trail head.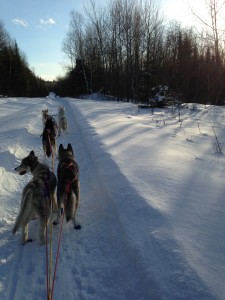 Moments like these are a great time to connect with nature and take in the peace and the quiet. It is truly a moment of Zen for me. A time for being in the moment, being one with my breathing and the breathing of my team. I love that connection.
It's why I love to run my team on snow. There is nothing like it.
And as the sun sets on another day, I take a moment to snap my reflection on the trail. A nice reminder of another great adventure with my dogs.