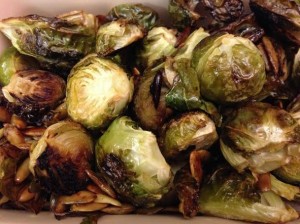 Brussels Sprouts may look like mini cabbages but there isn't anything mini about the nutrients packed in these healthy vegetables. Brussels Sprouts are not only an exceptional source of protein, but they are also high in fiber and an excellent source of Vitamins C and K as well as iron, potassium and other vitamins, minerals and antioxidants. Because of their health benefits there is renewed interest in these small cabbage looking veggies. If you're not yet a fan of Brussels Sprouts perhaps this recipe will change your mind. Thanks to Carol Nees and Balanced Healthy You for this recipe inspired from the Whole Foods website. Carol also has a recipe on her site for Brussels Sprouts and Chestnuts. Another good one for the holidays.
Roasted Brussels Sprouts With Pumpkin Seeds
1 package brussels sprouts
1/4 cup raw pumpkin seeds
1 TBSP Olive Oil
1 TBSP Maple Syrup
Sea Salt and Pepper
Directions
Cut the Brussels Sprouts in half and place in a bowl with the pumpkin seeds.
Mix the olive oil, maple syrup and salt and pepper together.
Pour over the Brussels Sprouts and stir well to mix.
Roast for 30 mins in a 400 degree oven.