The Transitions Lifestyle System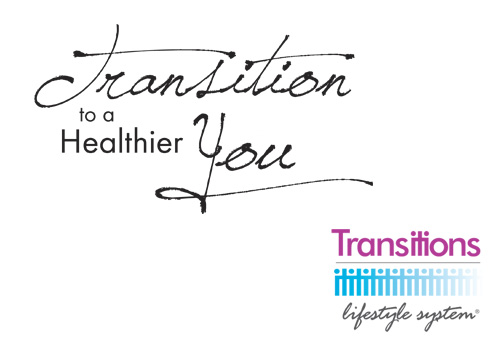 What is the Transitions Lifestyle System?
The Transitions Lifestyle System is a low glycemic eating program authored by a group of doctors, nutritionists and weight loss experts. The program is not a diet. It is a lifestyle change which addresses 3 core components:
Nutrition education with a focus on the glycemic index and what glycemic load is and how both of those impact health, metabolism, lean muscle mass and fat storage.
Behavior modification focuses on what is required, physically and mentally, to change habits and develop new ones that will last a lifetime.
Body Composition focuses on the importance of losing weight from Fat storage NOT from muscle mass because "Muscle Dictates Metabolism."
The Transitions Lifestyle System is an "anti-inflammatory" program which helps prevent blood glucose levels from spiking, thereby preventing insulin surges which can lead to diabetes and other health related issues.
What makes the Transitions Lifestyle System different?
The Transitions Lifestyle System is different from other programs because it is not a diet https://indi..india/10/. Nor is it a passing fad. It's not a Low-Fat or No-Carb Diet.
It is a lifestyle based on science. The main objective is to develop a healthy lifestyle to maintain muscle mass while losing fat and most diets fail at this.
My approach to teaching Transitions is education-based. With 30 years of teaching experience my philosophy as a coach is the same as it was when I was a classroom teacher. My main focus is to empower people through knowledge. As a Transitions Coach I want my students to know enough about the Glycemic Index so that they can choose foods that will benefit them on several levels. My focus is teaching students that some foods are energy-zappers and inflammatory. Others are anti-inflammatory and that can lead to a multitude of health benefits and weight loss. Learning about nutrition, and especially about the Low Glycemic Index way of eating is very empowering.
There is a plethora of material out there on the Glycemic Index and a lot of it is confusing. As a coach I sift through a lot of that material and pass on the valuable info that can help reinforce a lifestyle change.
Who Can Benefit from a Transitions Lifestyle Program? Is it just for retirement age women?
The healthy eating lifestyle taught in the Transitions Program is for everyone. It is for children, teens, adult men and women and the elderly. Eating healthy foods has a positive impact on mental clarity, energy, the immune system, blood glucose levels, cholesterol, blood pressure and weight. A Transitions class is also great for a group of people who work together or who are members of a community. Such groups offer added support and motivation to the participants.
Transitions incorporates the combined efforts of a healthier diet, regular exercise and behavior modification – Three things that anyone can do regardless of age or gender. Some of my students who did really well with the program have been kind enough to let me share their stories with you. Read about their Transitions Success Stories.
How often do you have classes? What time of year?
I teach classes on an individual basis and also in groups. If you'd like to chat about signing up for an individual class, send me an email at thepowerspack@gmail.com. If you're on the Eastern Shore of Md., I normally teach 3 or 4 twelve-week group classes a year. Two in the spring and two in the fall. I also do online coaching throughout the year and if a corporate or community group is interested in a class that can be arranged at any time of the year. You can find out about upcoming classes by visiting my blog.
How do I sign up?
Contact me at thepowerspack at gmail dot com and I will send you details on options and how to sign up.