Mayim Bialik's Healthy Granola Recipe
While I'm a fan of the hit TV show The Big Bang Theory I must admit I was surprised when I discovered that Mayim Bialik, who plays Sheldon's nerdy girlfriend, Dr. Amy Farrah Fowler, in real life has a Phd in neuroscience from UCLA. Wow! Perhaps not so surprising is the fact that Mayim, a vegan, is a published author of a cook book. Actress, and Phd in neuroscience, Mayim is also a mom raising 2 young boys. She is one busy woman! She also understands the importance of healthy family nutrition. Even though I am not a vegan, or even a vegetarian, I consider myself plant-strong and am always looking for resources with information on plant-based eating and tips on how to transition to a more plant-based approach. That interest is what led me to this cookbook. Mayim's Vegan Table has been described as "a perspective-shifting manual for people looking to eat a more plant-based diet in the interest of health and eco-friendliness."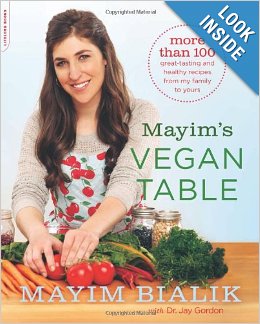 Mayim's Vegan Table is available on Amazon with a sneak peek at some of her recipes and tips put together with the help of pediatrician Dr.Jay Gordon. I would encourage you to peruse the section on strategies for meal planning and how to raise kids on a plant-based diet. If you have wrestled with any of these issues this may be a book worth having in your kitchen.
One of Mayim's recipes is a healthy granola recipe. I am including it here but first let me add a couple of my own caveats for anyone wanting to eat healthy but who may also want to lose weight in the process.
Making your own granola is a great staple to have in your cupboard when raising active children and if you are an active adult. And it's easy to do!
If you are trying to lose weight, keep in mind that while granola is healthy and made with whole foods, for some people it may slow weight loss if you are not burning off that great energy source.
This recipe uses maple syrup which is my preferred way of adding sweetness to a recipe. Because it also has a good bit of dried fruit, you could opt not to include the brown sugar to reduce the sugar content of the recipe.
If you've never made granola give it a try. I guarantee your family will be impressed!
Outrageous Granola
Makes 5 cups granola.
Ingredients
Nonstick Cooking Spray
3 cups rolled oats
1 cup almods, pecans or your favorite nuts chopped
1 cup dried fruit (any combination or cranberries,golden raisins,apricots, dates, cherries,and blueberries).
1 tablespoon vanilla extract
1 tablespoon cinnamon
1/2 teaspoon salt
1/3 cup packed brown sugar
1 cup maple syrup
Directions
1. Preheat oven to 325F. Spray a large nonstick baking sheet with cooking spray.
2. Mix the remaining ingredients except the dried fruit, together in a large bowl.
Transfer to the baking sheet.
3.Bake for 35-45 minutes, until the granola starts to brown, stirring once halfway through the baking time.
4.Remove from the oven and let cool completely on the baking sheet. Mix in the dried fruit.