Fall Musher's Reunion
One of our favorite mushing get-togethers in the Fall is a Musher's Reunion and Training Weekend in western Pa. It is hosted by a retired musher from the Pennsylvania Sled Dog Club who has land where he used to train his own dogs and which he opens up for a Fall weekend for an enjoyable gathering of former and current mushers. People and dogs gather and set up camp for a weekend and there are opportunities to train dogs, eat, tell stories around a campfire, eat, play with dogs, share experiences, eat…. You get the idea.
I started going to these gatherings when I first started mushing. It was a great way to meet people, some of whom have become not only mentors but good friends.
Once again, as my husband Kevin loves to do, he writes up musings about the goings on during the weekend and he sends them out as Mushing Bulletins to our family and friends.
This year he wrote about the various dogs that you might find at a Musher's Reunion and Training Weekend and I thought I would include it here.
Not All Sled Dogs Are Huskies by Kevin Powers
The quote "Any man who hates dogs and babies can't be all bad" is virtually always misattributed to W.C.Fields. The fact that, in one of his films, he kicked Baby Leroy, a child movie star, may be a contributing factor.
In fact he never said it. Leo Rosten, the humorist, said it about him during a roast in 1939. Fields thought that, whenever he appeared in a scene with a kid or a dog, they would find some unpredictable way to steal the scene. If the dog is actually a puppy and the kid is a toddler, you've got no chance of diverting people's attention from their every action. How ya gonna compete with this…?
Or this…?
These kids are right out of the cast of Stand by Me…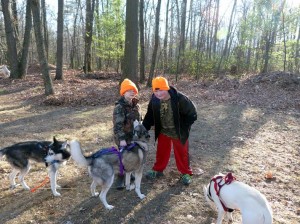 They live down the road and spend the weekend hanging around the dogs. The one on the right, Ryan, even pitched a tent and camped out. I asked his buddy, Luke, whose orange ski hat completely covered both ears and both eyebrows, whether he was related to the guy who wrote the gospel. He said "No, but I've heard of him."
This prompted Ralph to raise the question of whether Luke got all the credit he deserved for writing not only the gospel but the Acts of the Apostles. You might get the idea that Ralph is some kind of religious nut from all this talk about the Bible. His response would be "I ain't a religious nut, I just know some stuff!" He's actually a NASCAR nut, but under that southern drawl, good ol' boy exterior is a frightening amount of factual information.
On Sunday, after the morning run, we head into State College to shop at the local Wegman's. Well actually the Head Musher shops at the Wegman's and I go to Dick's to check out the sporting goods, in particular the golf stuff.
After a half hour or so, I end up back at the van sitting on the back bumper with the tailgate open so the dogs can enjoy the cool breeze. Nine out of ten people who pass the van stop to talk about the dogs. One out of ten has taken a trip to Alaska and visited the kennel of an Iditarod musher. Every person I have ever spoken to who has done so makes virtually the same statement. i.e. "Those dogs up in Alaska don't look like sled dogs!" To those people this is what a sled dog should look like
Or this…
Or this…
In their mind's eye, they see King, Sgt. Preston of the Yukon's Alaskan Malamute, even if they aren't old enough to know who Sgt. Preston of the Yukon is. The closer a dog looks to a Siberian or a Malamute, the more they think it's a sled dog. Here's what an Alaskan Malamute looks like…
Is that a regal face or what? That's sled dog nobility at its finest.
Malamutes are BIG dogs. They might weigh twice as much as the Siberian Huskies pictured above. Mushers sometimes call them "Fuzzies", for obvious reasons. Our kids grew up with an Alaskan Malamute named Chinook that the Head Musher acquired when she taught school in Alaska. One hundred and twenty-five pounds of fur that everybody loved. But I don't think you'll find any Malamutes in this year's Iditarod, although there will be some Siberians.
Do you know what happens when you give two kids bicycles? Within fifteen minutes they are racing each other. Once one starts winning all the time, the other tries to find a way of making his bike faster. Before you know it manufacturers are building racing bikes and things get out of control.
Well, that's what has happened in sled dog racing. We started out with big, strong, Malamutes pulling sleds carrying heavy loads. Work dogs, doing work. Then somebody got the idea to race them. We've now morphed our way to Alaskan Huskies, (the dogs people complain about when they return from Alaska) that can run a thousand miles in eight days and then two weeks later do the same thing all over again. And they can do this in a snowstorm in zero visibility at ten below zero. They are incredible athletes
Here's a picture of a team of Alaskan Huskies I took in Togo, Minnesota, in 2011. It belongs to Jamie Nelson who has run and finished the Iditarod several times and has won the John Beargrease Sled Dog Marathon four times (and she came in second three times). They have been bred for speed and endurance. I would imagine that none of them weighs much over 35 pounds.
That's Jamie feeding the dogs after a run. One of the dogs was not eating because he seemed to be preoccupied with me and my camera. So I said to Jamie: "Do you want me to leave?" Her response was "No, you stay right where you are. He's got to learn not to be distracted when it's time to eat." When he continued to stare at me, she picked up his dish and divided the contents among the other dogs. He was not a happy camper, but the next time he didn't pay any attention to me. Dog Training 101 from a lady who is really good at it.
But the story doesn't end with Alaskan Huskies. There are mushers who run sprint races, maybe thirty miles or less, who have hounds. They are long legged, floppy eared, short haired running maniacs. Handsome dogs, but a far cry from that "Fuzzie pictured above.
This guy looks like a pointer to me but people refer to them as "hounds" and they definitely pull carts and sleds.
Now, if you want to see a face only a mother could love, check out this hound pup…
He bears a striking resemblance to former Senator Alphonse D'Amato, but I don't want to stigmatize the poor dog.
There's one breed of sled-pulling dog that I haven't mentioned. There are a bunch of them at the reunion. The people who run them call them "Sammies", short for Samoyed. Here is a twelve-dog team just finishing a run.
They are known for turning heads and shedding.
Well that's about it from the 28th Annual Mushers Reunion. Oh wait, there is one other thing. When you are around mushers and you say something like "Well I've never ridden on a dog sled!", someone will figure out a way to get you on a dog sled. Several years ago that statement got me a ride on a "proto-type" racing sled behind a twelve-dog team going just under three hundred miles and hour, only a slight exaggeration.
So, last year, I told Ralph that I had never tasted venison. That resulted in this…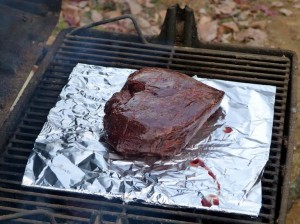 Is this a great country, or what?
That's it until the next trip, scheduled for the first week of December – The Fair Hill Challenge, a dry-land race near the University of Delaware. Jeez hold on, hold on, that's next weekend. I'm going to have to get my thesaurus out and find some more words.
Later,
The One-Man Pit Crew
P.S. From the Musher: I am posting this after the Fair Hill Challenge which was cancelled this year due to rain which made the trail too muddy for a safe dryland race. So now fingers are crossed that Mother Nature will cooperate for our next adventure.