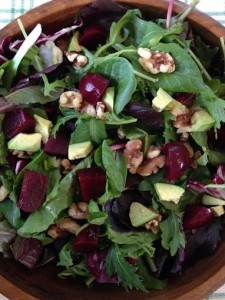 Beets have so many health benefits that I figured it was high time I paid more attention to this root vegetable.
Here are just a few health benefits of beets.
High in vitamins
Great detoxifier
Aid to mental health
Energy source
Aphrodisiac
Did I get your attention with the last one? =) If you want more details about beets, check out the post from The World's Healthiest Foods.
Beet juice is very popular and I have used beets in some of my juicer recipes. See my post Beet The Competition Recipe for a juice recipe, research on stokes and more benefits of beets.
Juicing is one thing but I'd never used beets in a salad so I was a bit hesitant about trying this recipe. But boy, am I glad I did. I made it for a friend's dinner party and it was a big hit so it is now one of my favorite salad recipes. And as usual I just had to share.
The recipe I use with a minor adaptation is from The Whole Life Nutrition Cookbook.
In the cookbook the salad is called "Beet and Fennel Salad" but since I am not a fan of fennel I eliminated that. That's why I call it Mixed Greens with Beets. But I will post the recipe as it appears in The Whole Food Nutrition Cookbook. If you are looking to incorporate more whole foods into your diet and want information on how to do it you may want to consider buying this book. It is a great resource.
Ingredients
Beet Salad Recipe with Mixed Greens
8 cups mixed greens
3 small beets, peeled and cubed
1 small fennel bulb, sliced
1 cup raw walnuts, lightly roasted
1 avocado, cubed
4 green onions, sliced
1/2 cup chopped basil
Orange Balsamic Vinaigrette Dressing *You can view the dressing as a separate post on this link.
1/4 cup orange juice (with no added sugar)
3 Tablespoons extra virgin olive oil
1 Tablespoon balsamic vinegar
1 Tablespoon chopped fresh fennel tops
1 teaspoon orange zest
1/4 teaspoon sea salt
1/4 teaspoon cinnamon
Directions
1. Preheat oven to 350 degrees F. Place walnuts in a glass baking dish and place in preheated oven, bake for 10 minutes or until walnuts give off a nutty aroma. Let cool.
2. Steam cubed beets for 10-15 minutes or until tender. Place in a dish to cool completely.
3. Place all ingredients for dressing into a small bowl and whisk together.
4. In a large bowl, place mixed greens, beets, walnuts, fennel, avocado, green onions, and basil; top with dressing and serve immediately.
If you enjoy this salad as much as I did, leave me a comment below or better yet Pin it!
If you want to be notified when a recipe is posted click below.