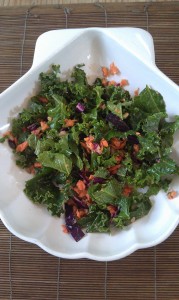 Kale Slaw with Mustard Seed Dressing
Kale is a nutrient-dense food which means it is high in nutrients. It is a great source of vitamins A,C and K, and it is low in calories. I recently had the chance to attend a raw food demo by certified raw chef Kelly Hughes Roberts. Kelly made us the Kale Slaw with Mustard Seed Dressing pictured here. If you've been on the fence about eating Kale raw, give this slaw a try. It is crunchy and delicious and full of nutrients. I bet it will make a fan out of you.
Salad
1 bunch kale
2 cups red cabbage
1/2 cup red onion
2 carrots
1/2 cup raw sunflower seeds
1/2 cup raw pumpkin seeds
Directions
Wash and de-stem Kale.(Bitterness of Kale comes from the stems.) Tear leaves and place them in a bowl. Shred red cabbage and carrots. Chop red onion. Add all ingredients into bowl. Pour mustard seed dressing on top. Using your hands, massage dressing into the salad. Place in individual bowls and devour!
Mustard Seed Dressing
1/4 cuspp olive oil
1 Tb Apple Cider Vinegar
2 Tbsp Dijon Mustard
Coarse salt and pepper
Mix de-stemed Kale, shredded carrots, chopped onion and cabbage in a large mixing bowl. Add pumpkin and sunflower seeds. For the dressing mix salt and pepper, vinegar, mustard and olive oil in a small bowl and whisk together. Pour on top of slaw and mix until Kale is covered. It's easier to use your hands and little messy but saves a lot of time.
For more healthy raw recipes check out Kelly's new cookbook called Farm Foodie Fitness Homegrown Summer Recipes Edition. You can order it directly from her website.