My husband showed me a picture of a naked man the other day…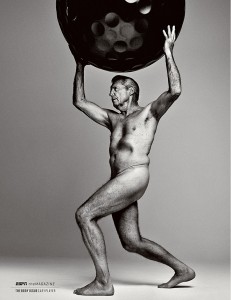 I wrote that statement for this blog two years ago but now in the Spring of 2015 I find that the information is just as timely. For those who know my husband and me the statement above would seem to be very uncharacteristic behavior. But it was indeed true and I very much liked what I saw. Perhaps I'd better explain. My husband Kevin is a 4 handicap golfer. He lives and breathes golf. He is also a fan of Gary Player and when Gary's nude photo was featured in ESPN's 2013 The Body Issue it caused quite a stir. Why? Because Gary Player has a good reputation. He's a decent guy. He's been married to the same woman for 58 years. Together they have 6 children and 21 grandchildren. He's not the kind of guy who goes around posing nude.
And after all, he was 77 years old when this picture was taken!! An old fart! Who wants to see a nude photo of an old fart? What will his family think?
Well Gary was happy to address all those questions and he was interviewed a lot since ESPN timed the issue to come out the week before the 2013 British Open. There are tons of golf fans and even non golfers who tuned in to watch golf that week and Gary was there fielding questions.
For people who aren't golf fans or who don't know Gary Player, he's also known as Mr. Fitness because he works VERY hard at staying fit. His exercise regimen would put Jack LaLanne to shame. He has always prided himself in being fit in addition to being a very successful professional golfer. And Gary took the opportunity to talk about the need for people to get fit! Posing in the nude for ESPN ensured he would get everyone's attention and when he had it, he repeated the message he's been repeating for years, that physical fitness is an important component of living your best life, on the golf course and off. Gary teaches his philosophy of golf and fitness through his Gary Player Golf Fitness Center which he calls the Gary Player Golf Experience. He sums up his philosophy this way: "At the Gary Player Golf Experience we recognize and address the three key dimensions of the golf puzzle by concentrating on the mental approach to the game, the physical fitness and by building a solid golf swing with its many shot variations."
Gary Player on Low Glycemic Eating and Golf
In perusing Gary's website I was delighted to see a nutrition article touting the benefits of eating low GI foods when playing a round of golf. You can read it here: Golf Nutrition Tips by Gavin Groves.
Since low glycemic eating is my preferred approach to nutrition and the method I coach I am always delighted to see successful athletes who promote low GI nutrition. I especially like it because of it's anti-inflammatory properties.
Gary Player on Making Fitness A Priority
In his interview regarding his posing in the nude for ESPN he spoke about hoping people will make fitness a priority in their lives. He is concerned about the obesity epidemic in the US especially among children. You could tell it was a topic that deeply troubled him. And he is hoping people will take note of his superb physique and jump on the fitness bandwagon.
Are You A Fit Old Fart?
So that gave me an idea. Gary and I share the same philosophy when it comes to nutrition and his fitness regimen inspires me. On those days when I really don't want to get up and work out or move my mass I will think of Gary. I may even post his photo on my mirror for motivation! I'd like to be part of "Gary's Gang", my choice of words, not his. =) As a nutrition coach I know how hard it is to get people to change their eating habits and eat healthy more often than not. So instead of trying to encourage people to lose weight and get fit I'd like to hear from Fit Old Farts who are already doing what it takes to be fit! I know you are out there!
Let me first explain the term Old Fart. I use it not in a negative way. My definition of Old Fart is someone over the age of 60 who, like me, delights in taking advantage of Senior Discounts whether it be for the movie theater or the National Parks or shopping at Harris Teeter on Thursdays.
Like Gary there are a lot of us who are over several hills but we are fitter than many people half our age. It's time we made ourselves known and came out of the shadows. Perhaps, like Gary, letting people know that even though it's hard, there are a lot of us out there who ARE working daily to stay fit as we age. This could be our legacy. We can influence by example.
What do you say? Are you a Fit Old Fart?
Here is the criteria.
Fit Old Fart Criteria
You must:
Be over 60
Have a BMI in the Normal range according to the Center for Disease Control's BMI Calculator.
Have a fitness regimen so that you qualify as a Fitness Rock Star according to Active.com's Fitness Quiz.
If you are a Fit Old Fart, do let me know by posting a comment below. Post a picture if you'd like and tell me what you do to stay fit as you age. Let's join Gary Player and be part of "Gary's Gang" and by our example perhaps we can make a positive impression on the next generation who can then make an impression on their own children. Let's motivate each other and start a ripple effect.
And if you are over 60 but aren't fit, get out and move your mass and join us! Let's make a difference by starting with ourselves.
I'll Go First – A Couple Ways That I Stay Fit
Presently I am 67, and I'm
a recreational musher
who loves working and exploring with my dogs. It's a sport I started when I retired at 60. It was on my Bucket List. What can I say?
In order to stay fit I work out all year in a variety of ways so I can keep up with my team. In the summer I love doing Stand Up Paddleboarding and I especially like combining my yoga practice with SUP.
Working on getting and staying fit has lead me to all kinds of new activities and new friends. My life is richer for it.
I'm hoping to meet even more people through this venue so if you are over 60 and fit fill out a comment here.
Let's be part of Gary's movement and see if we can start a ripple effect if we just start by getting fit ourselves!