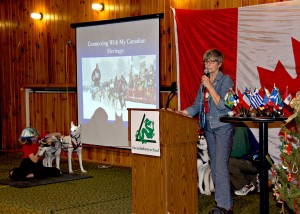 The month of April held some new experiences for The Powers Pack. Mushing season was over for us on the Eastern Shore of Md. but we had great fun meeting new friends and talking about our experiences this year. At the beginning of April I was honored to be the featured speaker at the Ocean City Chapter of the Sons of Italy. Speaking to some 80 adults my focus was on stressing that it's never too late to live your dream as long as you are willing to do what it takes to make it happen.
At the end of the month the Pack and I went to The Salisbury School to take part in their Global Awareness Day which featured Canada. Since my heritage is French Canadian it was a delight for me to speak about Canada and about how mushing helps me connect to my French Canadian roots. The dogs were thrilled to spend the day at school and they got to make lots of new friends. One special friend was Margy Meeks the school's librarian who organized Global Awareness Day. Here she is with us on stage as she and Kevin helped quiet the dogs during my presentation.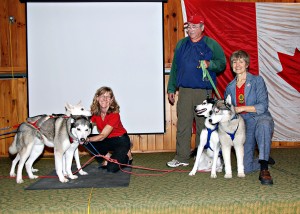 For a full report on our Global Awareness Day experience reported as only Kevin can do it as the One Man Pit Crew, check out his last Mushing Bulletin of the 2013 season:
Global Awareness Day at The Salisbury School
Happy Trails!